Retreats and Pilgrimages
The word "catholic" means universal, and as such we know it is important to develop and maintain our connection with the universal Church. At SBSJ, we offer opportunities for students to go on retreats and pilgrimages throughout their time here, including day trips, residentials and international visits. These give our students the chance to reflect on their own spiritual or life journeys, and see faith in another context.
Ampleforth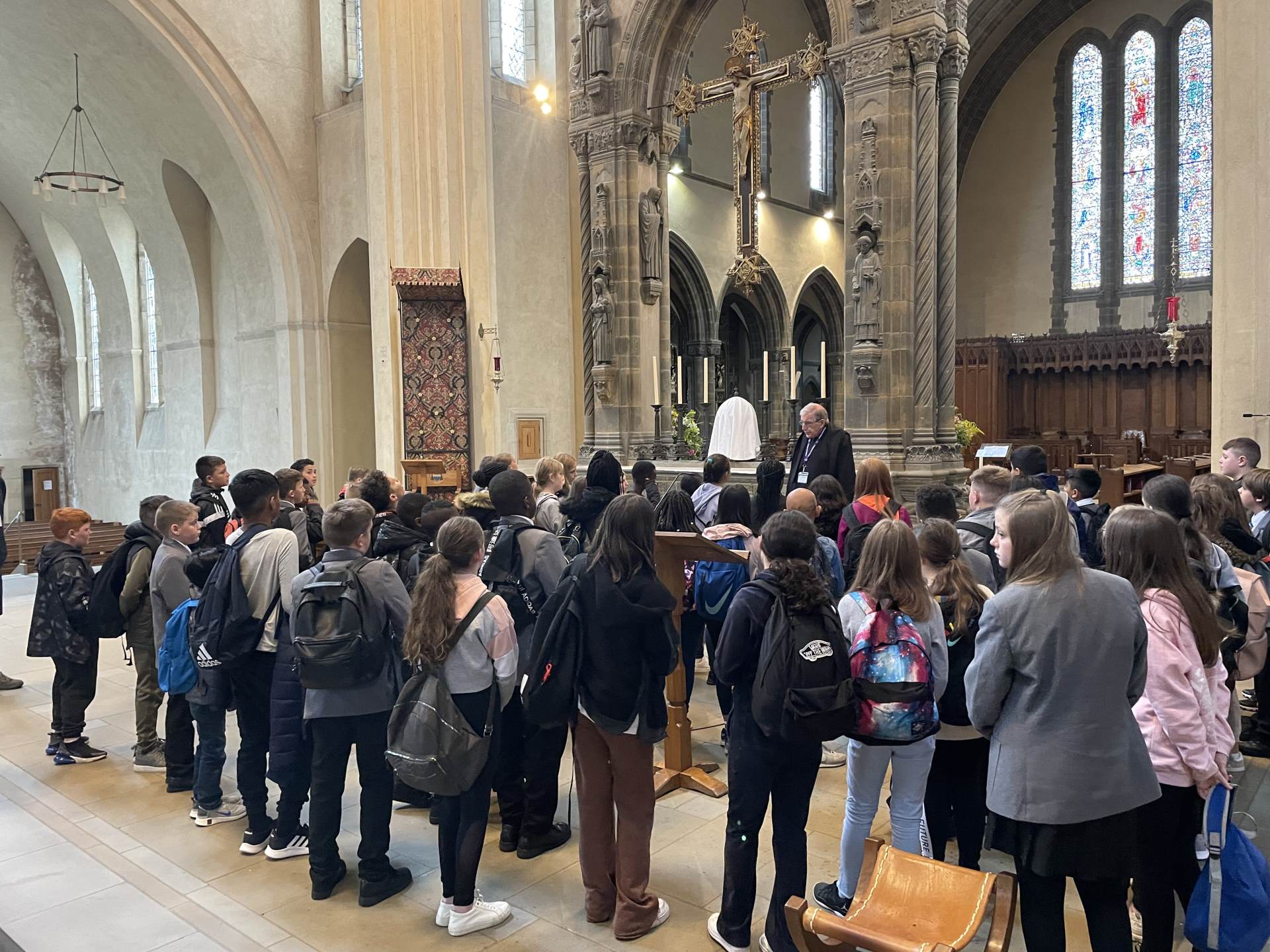 Ampleforth is a monastery and school, set in the beautiful North Yorkshire countryside. With both day trips and residential trips, our visits to Ampleforth include prayer and reflection, fun activities and spending time in the great outdoors.
Lourdes
The Leeds Diocesan Pilgrimage to Lourdes occurs in the summer term, and students in Years 10 and 12, along with students from other schools in our Diocese, go to support sick or infirm pilgrims. By supporting those in need and attending gatherings and celebrations themselves, this is a wonderful opportunity for our students to grow in faith and serve their community.
Walsingham
Walsingham is an ancient pilgrimage site, and the most famous shrine to Our Lady in England. It is located in the beautiful Norfolk countryside, and we go there to honour Mary and to share our faith with young and old from around the country. With Mass, followed by a walk from the Slipper Chapel along country lanes and into the heart of the village to the ruins of the Abbey, this opportunity is open to Year 11, 12 and 13.
Pilgrimage / Retreat Opportunities
| | | | | | | |
| --- | --- | --- | --- | --- | --- | --- |
| Year 7 | Year 8 | Year 9 | Year 10 | Year 11 | Year 12 | Year 13 |
| September | May | June/July | July | September | July | November |
| House Welcome Day Retreats | Key Stage 3 Residential Retreat | House Transition Day Retreats | Diocesan Pilgrimage | Pilgrimage | Diocesan Pilgrimage | Year 13 Residential Retreat |
| Ampleforth | Ampleforth | Ampleforth | Lourdes, France | Walsingham | Lourdes, France | Soli House (Kenelm Youth Trust) |
| May | | May | | | September | September |
| Key Stage 3 Residential Retreat | | Key Stage 3 Residential Retreat | | | Pilgrimage | Pilgrimage |
| Ampleforth | | Ampleforth | | | Walsingham | Walsingham |